Tournaments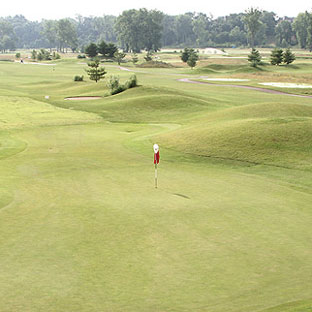 The Landings at Spirit Golf Club offers customized golf tournament packages for any size group. We will organize and manage your tournament down to the every last details to ensure a great event. It is our commitment to assist you in any way possible while you and your guests have fun in a timely and affordable manner. With morning shot guns available any day of the week, book your tournament today.
Enjoy West County Golf
You have been waiting for this all year long. The sun is warm, a light breeze is blowing, and the golf course is stretched out in front of you. If this sounds like a scene out of a dream, then The Landings at Spirit Golf Club is a dream come true. Each year we play host to some of St. Louis County's most successful golf tournaments and corporate outings. A day on the course may be just the thing you've been looking for to strengthen your company's mindset or to raise funds for your organization. Start planning today by contacting our professional staff.
An Unforgettable Golf Experience minutes from St. Charles County
What makes The Landings at Spirit Golf Club different is our attention to details. Often times it's not how extravagant your event is but how well it's executed that determines its success. Our experienced staff does what it takes to bring success in every detail. Come to us with your thoughts and we'll construct a plan that will leave your guests with an experience they will never forget. Don't wait...begin planning today.
After the Last Putt...
When all is said and done on the golf course, we all look for a way to recap our experience with those that have shared it. The Squadron Room is the perfect place to relive the day's events. Whether you came out on top or not, playing a round of golf is enough to build a healthy appetite. Let your guests choose from our grill menu. We offer a number of course favorites and a wide assortment of beverage options to help everyone cool down.
At Landings at Spirit Golf Club, our guests' experience is our number priority. Every year brings both large and small groups to our facility, and for each we deliver our best.
---
Tournament Formats
Best ball
Callaway
Scramble / no handicap
Scramble / with handicap
Play own ball, no tournament
Additional Services
Registration table
Summary sheet of results
Scoreboard
Special Events
Closest to pin
Longest drive
Straightest drive
Longest putt made
---