Adult and Junior Clinics
Junior Golf Programs
PGA Director of Instruction Don Gorin has been instructing juniors for over 29 years and provides a fun and safe learning environment to help promote a lifetime sport.
Our Junior Golf Clinics will rotate between On-Course instruction and range instruction. On and off course session will simulated the pressures one encounters during a round of golf. In addition, students will learn course etiquette and the rules of the game. Schedule now: https://calendly.com/dongorinpga
Each clinic will have a maximum of 6 students per class and a minimum of 4. This will ensure plenty of individual instruction.
We want each of our students to experience a fun and enjoyable time while learning the proper FUNdamentals of the game of golf.
Details: Classes meet 2 hours per week for eight weeks. My goal is that every other week will be on-course instruction. 16 total hours. Make up sessions available.
Cost: $640 per person. That's only $40 per hour. 50% deposit required.
Monday juniors: Classes meet 9:00-11:00 or 4:00-6:00
May 29, June 5, 12, 19, July 3, 10, 17, 24
Wednesday Juniors: Classes meet 9:00-11:00
May 31, June 7, 14, 21, July 5, 12, 19, 26
For additional information visit my website: http://dongorinpga.com or mobile: 314-954-7407 Email: dongorin@pga.com


St. Louis Golf Lessons through Mara Palozla offers 10 different junior programs ranging from social programs like PGA Junior League and LPGA USGA Girls Golf to learning programs like U.S. Kids Golf and the Little Birdies Program. Additional programs range from low commitment once a week clinics to an 8 hour a month select training program. To learn about all the junior progrms offered through St. Louis Golf Lessons please visit the Junior Golf tab at http://www.stlouisgolflessons.com.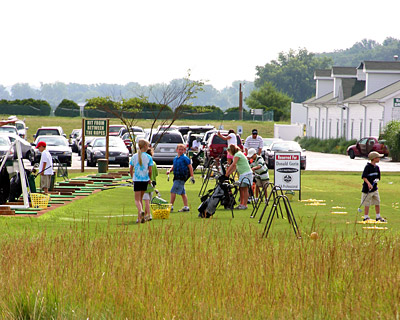 ---
Adult Golf Programs
Results-Based On-Course Group Lessons
Drop 10 shots in 10 weeks Guaranteed or additional lessons are FREE until your goal is met.
Includes: 5 on-course 2 hour and 5 off course 1 hour sessions for a total of 15 hours
Cost: $720
$48 per hour
Includes all range, green and cart fees
For more information- mobile: 314-954-7407 email: dongorin@pga.com or visit my website http://dongorinpga.com
St. Louis Golf Lessons offers ongoing classes for men, women and family groups at The Landings at Spirit Golf Club from April through October. To check out these classes, please visit the Adult Programs tab at: http://www.stlouisgolfllessons.com.