Adult and Junior Clinics
Junior Golf Programs
Hello Parents - Are you still worried about how you are going to entertain your children this summer during this time of social distancing? The Build Your Own Camp for junior golfers is designed for your kids to enjoy golf with only their siblings or friends of your choosing.
Maximum group size this year is six (6) golfers.
Camp will be Monday through Wednesday during the week of your choosing. Time slots are currently available between 8:00 am - noon. (For example, June 7 through June 9 from 8:00-9:00am)
Pricing is as follows: 2 children = $90 per student, 3 children = $80 per student, 4 children = $70 per student, 5 children = $60 per student, and 6 children = $50 per student.
Five to eight year olds will use Snag Golf equipment (snaggolf.com) with the equipment being sanitized between each group. Children nine and older are asked to bring their own clubs. I will be wearing a mask during the clinics. Children will not be allow in the clubhouse without a mask.
For additional information call/text me at 314-954-7407. Email: http://dongorin@pga.com. Website: http://www.dongorinpga.com
We want each of our campers to experience a fun and enjoyable time while learning the proper way to play the game of golf.

St. Louis Golf Lessons through Mara Palozla offers 10 different junior programs ranging from social programs like PGA Junior League and LPGA USGA Girls Golf to learning programs like U.S. Kids Golf and the Little Birdies Program. Additional programs range from low commitment once a week clinics to an 8 hour a month select training program. To learn about all the junior progrms offered through St. Louis Golf Lessons please visit the Junior Golf tab at http://www.stlouisgolflessons.com.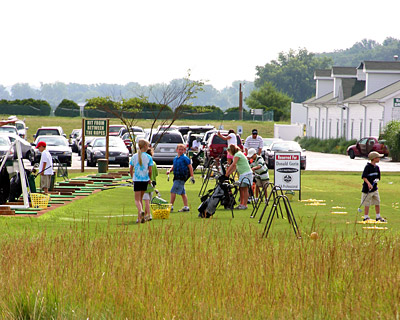 ---
Adult Golf Programs
Make a Commitment to a Golf Program
Family: $1,399 - Single: $999
Pay a one time fee and receive 1 hour of instruction per week for three months.
Family
Maximum of four people
Lessons must be taken together
For more information ask for Don Gorin, PGA Director of Instruction
St. Louis Golf Lessons offers ongoing classes for men, women and family groups at The Landings at Spirit Golf Club from April through October. To check out these classes, please visit the Adult Programs tab at: http://www.stlouisgolfllessons.com.